TSP100 Receipt Printer Series
Star Micronics manufactures a wide range of printers for Point-of-Sale as well as industry specific solutions
TSP100 futurePRNT Receipt Printers – Voucher printing ready
The TSP100 futurePRNT is the first USB only receipt printer on the market today.
The power that USB communication interface provides has allowed Star Micronics to build a software driven POS receipt printer that is voucher printing ready – out of the box!
The advantages of such a printer are evident for application like retail, restaurants, and convenient stores. It provides an immediate Plug&Play installation which reduces the time of integration to minutes.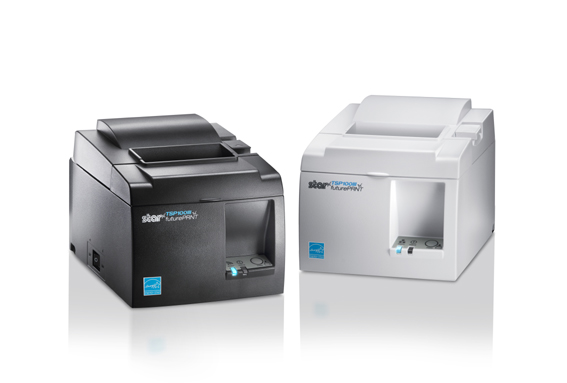 About TSP100 Series
The TSP100 thermal printer series is provided with all standard operating systems drivers (Windows, Linux and Mac) and specialty drivers like the OPOS and JavaPOS. Also, included in the drivers, Star has included simple utilities that will enhance the Retail or hospitality applications and therefore make the entire experience a charm.
Product Order Code:
TSP143IIILAN – Network version
TSP143IIIW – WLAN wifi version
Receipt Redesign Tool
Receipt Re-Design Tool – designed to work independently from your current POS software, the Receipt Re-Design Tool will allow any user to redesign their receipt.
Crop unwanted sections with embedded text and graphics left behind by legacy software using the Receipt Cropping Tool, and replace any truetype fronts with more attractive fonts without affecting the speed of the printer using the Font Replacement Tool. See Demonstration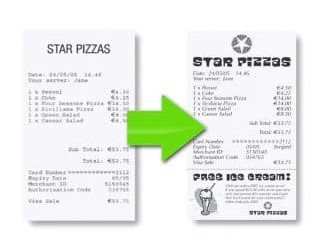 Coupon Market Tool
Incentivise your customers and promote brand loyalty by automatically printing relevant vouchers and coupons linked to your customer's transactions.
The Coupon Marketing Tool will recognise pre-determined "trigger action" keywords and enable the TSP100 to print an unlimited amount of promotional coupons at the bottom of each customer receipt. The TSP100 Image Import Tool simplifies the storing of graphics and logos in the printer. See Demonstration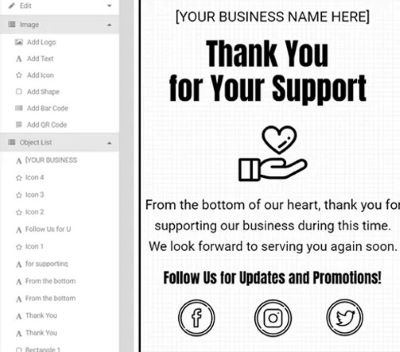 Auto-Text Reversal
Auto-Text Reversal for wall mounted or vertical operation. Simply tick the box and all output will be automatically turned upside down for user comfort.
All setting can be stored on the PC and "mirrored" across other TSP100 printers with a simple export configuration feature for mass system installations.
No hardwired configuration is needed at all.
Feature
The Next Generation of POS Printer
Internal power supply
High speed throughput: 25 receipts per minute
"Plug & Play" USB drivers
"Drop-In & Print" paper loading
All accessories included
All drivers and software included
Certified by major software houses
TSP100 futurePRNT is the first All-in-One receipt printer on the market today!
The TSP100 is provided with a USB connection that provides an immediate "Plug&Play" installation which reduces the time of integration to minutes. The advantages of such a printer are evident for applications such as retail, restaurants, and convenience stores.
The TSP100 direct thermal printer is provided with all standard operating system drivers (Windows™, Linux™ and Mac™) and specialty drivers such as OPOS™ and JPOS™. Star has also included a number of embedded simple utilities that will enhance Retail or Hospitality CRM in POS applications and therefore make the entire experience a charm.
This fully loaded POS printer is offered at a price generally only seen in entry level products!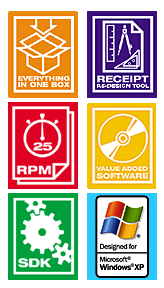 TSP 100 Software.
The TSP100 futurePRNT Comes Complete
This software includes:
Operating System Drivers
Linux
JavaPOS
Mac OSX
OPOS
MS Windows XP
The Receipt Redesign Tool which includes:
Add Images (logos, coupons, boarders)
Crop
Text Replacement
Print Preview
Barcode Modification
Other Value Added Software Tools include:
Invert Printing
Electronic Journal
Trigger Printing Coupons by Keywords
SDK (Software Developer's Kit)
Virtual Port
Printer Method
Direct Line Thermal
Printer Speed
22 Receipts Per Minute (125 mm/sec)
Printer Case Color
Star White or Charcoal Grey
Models Available
Auto Cutter
Print Resolution
203 dpi (8 dots per mm)
Two Color Print Capability
Red & Black / Blue & Black / Green & Black (Two color thermal paper required)
No. of Columns
Star Mode = 40, ESC/POS™ Font A 42 Font B 64
Font Size
12 x 24
Character Set
ANK 95, 32 Int 128 Graphic plus Chinese, Japanese, Korean, Taiwanese
International Code Pages
Star Mode=40. ESC/POS™= 10 + 1 blank allowing an additional character page to be added
Bar Codes
Extended barcode functionality – 9 versions / PDF 417, Maxicode Option
Line Spacing
3 mm or 4 mm or programmable
Paper Width
80mm standard, 58mm with paper guide
Paper Thickness
0.065 ~ 0.085 mm
Paper Roll Diameter
Up to 83 mm
Easy-Load
"Drop-In & Print"
Paper Out Sensor
Standard
Paper Low Sensor
N/A
Maximum Print Width
80mm paper = 72mm, 58mm paper = 50.8mm
Top Margin
11 mm minimum default
Auto Cutter
Guillotine (Partial Cut Only)
Cover Open Sensor
Yes
Logo Store Capacity
Unlimited
Multiple Copy Support
Supported through futurePRNT Software
Journal Capability
Supported through futurePRNT Software
Label Support
N/A
Power Supply
Internal with power cable supplied (not available on the TSP100PUSB; requires optional PS60A external power supply only when using standard Full Speed 2.0 USB cable)
Drivers Available
Windows™ 2000/XP/Vista™, WinCE, XP Embedded (TSP100U/TSP100PUSB Only), Windows 2003 Server, OPOS™, JAVA POS™, Linux CUPS Support™ , MAC OSX™, Windows 98/ME/NT4 (TSP100U/TSP100PUSB Only)
WHQL
Certified
Swappable Interfaces
N/A
Emulation Modes
Star Mode, ESC/POS™
Peripheral Drive Circuit
2 circuits, (24V max. 1A), 1 Compulsion input
Power Consumption
Average 1.6 Amp. Printing, 0.1 Amp. Standby
Operating Conditions
Temperature: 5ºC to 45ºC
Humidity: 10% – 90% RH (without condensation)
Storage Conditions
Temperature: -20ºC to 60ºC
Humidity: 10% – 90% RH
Dimensions & Weight:
Auto Cutter Models
Tear Bar Models
142mm(W) x 204(D) x 132(H) mmTSP143U – 1.73Kg, TSP143PUSB – 1.53Kg, TSP143LAN 1.72Kg, TSP113U – 1.56Kg, TSP113PUSB – 1.37Kg, TSP113LAN – 1.56Kg
Safety Standards
UL, C-UL, TüV, FCC, VCCI, EN55022, CE
Accessories ALL Included with Printer
Installation CD with Drivers and futurePRNT Receipt ReDesign Software, Wall Mount Bracket, Auto Reverse Text Output Software, Vertical Mount Accessory, 58mm Paper Guide, 6ft Interface Cable, 6ft Power Cable, Power Switch Cover (Power Cable not included with PUSB versions)
Warranty
3 Year Limited Manufacturer Warranty
Options
Splash Proof Cover (SPC-T100)
Display Stand for Vertical Use (VS-T650)
Kitchen Buzzer (BU01-24-A)
Become a Star Micronics Reseller
Star Micronics has been supporting resellers in Australia for more than 30 years.
Complete our simple registration process here for eligible resellers.