TUP500 Series Kiosk Printer
Star Micronics manufactures a wide range of printers for
Point-of-Sale as well as industry specific solutions
TUP500 Series Kiosk Printer
The TUP500 Series is a high speed, cost effective, open frame or modular printing solution with superior Star build quality designed especially for kiosk environments or for unattended printing applications. With a fast print speed of up to 220mm per second (with standard 15cm paper roll) and capable of printing on media up to 0.15mm thick, the TUP500 is ideal as a fast, reliable receipt or ticket printer for kiosk environments.
The TUP500 is available as a complete open frame unit with presenter and document capture function or each module is available to purchase separately.
MODEL:
TUP592 Open frame kiosk printer with presenter
TUP542 Open frame kiosk printer without presenter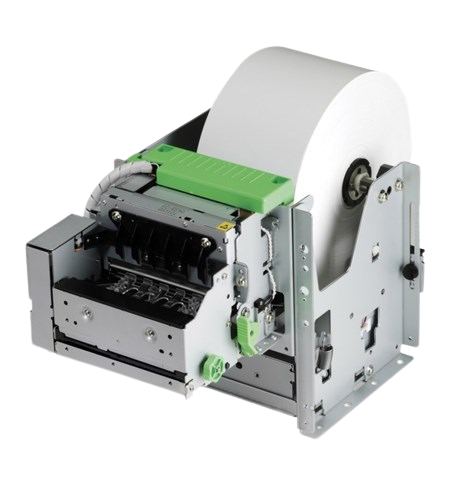 High speed, cost efficient high quality thermal barcode, receipt, ticket kiosk printing solution (up to 220mm per second with standard 15cm paper roll)
Fully adjustable paper widths from 45 to 82.5mm with self centering width adjuster
Multi-position adjustable near end paper sensor
Bi-directional status check
Adjustable horizontal or vertical mounted control panel with extended cable lengths
Easy-load – simply lift and tilt the mechanism forward and insert the paper for automatic paper loading
Max. Print Speed
220mm/sec.
Resolution
203 dpi
No. of Columns
48 / 64 or 53 / 71 col. Depending on Paper Width
Autocutter
Full or Partial (Guillotine) Full only with PR500 Presenter & TUP592
Paper Width
45 – 82.5mm Adjustable
Paper Thickness
0.065 – 0.15mm
Paper Roll Standard Option
100mm no option
Media Presentation
Presenter with Document Capture (not for labels). Flashing Paper Exit Guide option
Print Width
80mm
Sensors
Black Mark, Adjustable Paper End, Near End & Paper Low
Interface
Supplied without Interface. Options: 9-pin or 25-Pin Serial (IFBD-HN03 or IFBD-HD03), Parallel (IFBD-HC03), USB (IFBD-HU05), Ethernet (IFBD-HE07)
Unique Ethernet Print on Disconnection Feature
Standard with IFBD-HE07 option
Power Supply
External Option PS60A
Power Consumption
1.7 Amps Printing 0.7 Amp Standby
Energy Star
External, Energy Star Qualified PS60A (Optional)
Reliability
60 Million Lines 1 Million Cuts
Dimensions (W x D x H) mm Weight
Mechanism: 135 x 101 x 103 Open Frame: 140 x 150 x 240 2.5kg
Options

Interfaces (see above)
Flashing Snout Green & Red LED Paper Exit Guide
Become a Star Micronics Reseller
Star Micronics has been supporting resellers in Australia for more than 30 years.
Complete our simple registration process here for eligible resellers.