TUP900 Series Kiosk Printer
Star Micronics manufactures a wide range of printers for
Point-of-Sale as well as industry specific solutions
TUP900 Series Kiosk Printer
Star has used it's experience of the kiosk market to produce a unique, wide format (112mm), high speed kiosk printing solution which is available in Open Frame Format or in separate modular units.
Specifically designed for OEM use, the TUP900 provides the ultimate in cost effective versatility without compromising on reliability – ideal for unattended public operation for ticketing, lottery or web kiosks etc.
Model:
TUP992 Complete Open Frame Printing Solution
TUP942 Open Frame Printing Solution without presenter
The TUP900 Series of component parts are also available for greater flexibility – TMP942 mechanism with cabling and cutter, PR900 slim line presenter, TBD900 Control Logic board, PNE sensor, PBD-9 power board .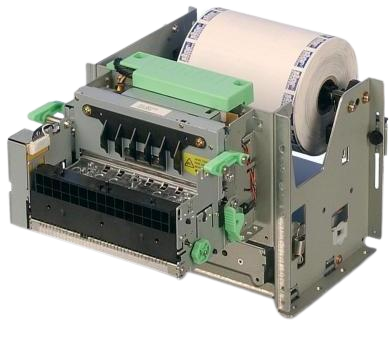 Features
High Speed 150mm per second print speed (over half a meter of print in just 3.5 seconds)
Barcodes, tickets and receipts up to 150gsm/0.15mm
Large paper roll capacity up to 25cm/10″ diameter (over 600mm of paper) for fewer paper refills (optional Paper Supply Unit available)
Unique star scalable raster driver available for automatically scaling an A4 of screen image into 112mm paper
Easy paper loading – "Lift and Tilt"
Two colour printing – red/black or blue/black
Multi position adjustable near-end paper sensor
Serial, Parallel, or USB Interface options
Max. Print Speed
150mm/sec.
Resolution
203 dpi
No. of Columns

A4 Print Capability on
112mm Paper with

Auto Scaling Software

Autocutter

Full or Partial (Guillotine)

Full Only with PR900

Presenter & TUP992

Paper Width

80 – 112mm

Adjustable

Paper Thickness
0.065 – 0.15mm
Paper Roll Standard Option

Standard: 150mm

With Option: 254mm

Media Presentation

Presenter with

Document Capture

(not for labels).

Metal or Flashing Paper

Exit Guide options

Print Width
104mm
Sensors

Black Mark,

Adjustable Paper End,

Near End & Paper Low

Interface

Supplied without

Interface. Options:

9-pin or 25-Pin Serial

(IFBD-HN04 or

IFBD-HD04),

Parallel (IFBD-HC04),

USB (IFBD-HU06)

Unique Ethernet Print on Disconnection Feature

Contact Star

for more details

Power Supply
External Option PS60A
Power Consumption

1.7 Amps Printing

0.08 Amp Standby

Energy Star

External, Energy Star

Qualified PS60A

(Optional)

Reliability

37 Million Lines

1 Million Cuts

Dimensions (W x D x H) mm Weight

Mechanism:

176.2 x 101 x 121

Open Frame:

192 x 249.3 x 179

2.84kg

Options

Interfaces (see above)
Metal Paper Exit Guide
Flashing Snout Blue or Green & Red LED Paper
Exit Guide Option
25cm Paper Roll Option
Become a Star Micronics Reseller
Star Micronics has been supporting resellers in Australia for more than 30 years.
Complete our simple registration process here for eligible resellers.