TSP800II Printer Series
Star Micronics manufactures a wide range of printers for Point-of-Sale as well as industry specific solutions
The TSP800II High Speed Graphics, Reports & Receipt Printer
This revolutionary wide-format POS printer provides a solution to a number of applications where no POS printer was able to before.
From compact web printing to mobile transportation printing as well as producing wide high-quality POS receipts with professional and crisp graphics, the TSP800II is the solution!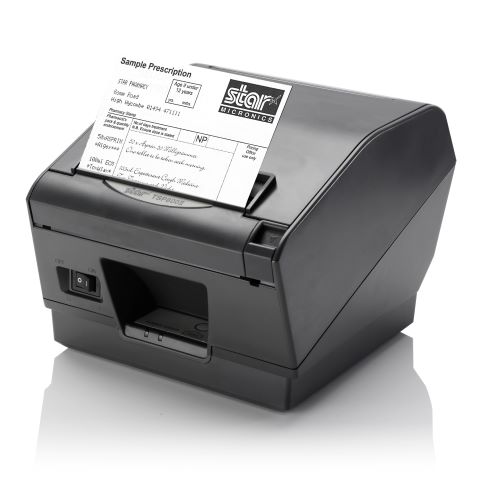 About TSP800II
The TSP800II is the only printer on the market that provides printing on 3" to 4.4" wide paper at an amazing speed. It is the perfect printer for applications that need to print a large amount of information on a receipt.
TSP800II Series Product Range:
TSP847IID – Serial Interface
TSP847IIC  – Parallel Interface
TSP847IIU –  USB Interface
TSP847IIE  –  Ethernet Interface
TSP847II – WEBX  (Webprint)
TSP800II High Speed Graphics, Reports &
Receipt Printer Features
Versatile 180mm / sec. Barcode, Label, Receipt & Ticket Printer with Autocutter

Unique 104mm / 4″ print width – on paper stock up to 0.15mm thick. (82.5 and 80mm paper rolls can also be accommodated using the optional paper guides)

Internal or External Paper Feed Paths (external for large capacity or security applications)

"Drop-In & Print", easy paper loading

Compact Footprint (180 (w) x 213 (d) x 148 (h) mm) with vertical "Desk Boot" and Wall Mount options

Automatic scalable raster driver for immediate A4 reduction to virtual A6. Ideal for desktop replacement printer, Internet café and kiosk use
Typical Applications for the TSP800II Series Wide Format Printer:
BARCODE / RECEIPT / TICKET / LABEL PRINTER – Multiple overlay facility on paper stock up to 150 gsm
REMOTE PRINTER  – Comes with Optional Wall Mounting Brackets 
KIOSK PRINTER INDUSTRIAL PRINTER – Data Logging, Journal
Max. Print Speed
180mm/sec.
Resolution
203 dpi, 406 x 203 dpi selectable
No. of Columns
A4 Print Capability on 112mm Paper with Auto Scalling Software
Autocutter
Full or Partial Cut (Guillotine)
Paper Width
112mm Standard, 80mm Options with User Installable Paper Guide Option
Paper Thickness
0.065 – 0.15mm
Paper Roll Standard Option
100mm
Media Presentation
User Selectable Paper Delivery Options with Mounting Bracket Option
Print Width
104mm
Sensors
Black Mark, Paper End, Cover Open, Near End Horizontal & Vertical
Interface
Serial, Parallel, USB and Non Interface versions.Plug-In Options: Serial (IFBD-HD03), 9-pin Serial (HN03), Parallel (HC03), Ethernet (HE07), WebPRNT (HE07X) NEW Bluetooth (Apple iOS, Android, Windows) version available
Unique Ethernet Print on Disconnection Feature
Standard with IFBD-HE07 Option
Power Supply
External Option PS60A
Power Consumption
2.0 Amps Printing 0.12 Amps Standby
Energy Star
External, Energy Star Qualified PS60 (Optional)
Reliability
37 Million Lines 2 Million Cuts
Dimensions (W x D x H) mm Weight
180 x 213 x 148 1.9kg
Options

Buzzer
Blue or Green & Red LED Paper Exit Guide
Plug-in Interfaces (see above)
"Plug-In" WebPRNT interface solution for simple Web printing
Star WebPRNT Browser Download option for TSP847IIBTi from the App Store & Google Play
Become a Star Micronics Reseller
Star Micronics has been supporting resellers in Australia for more than 30 years.
Complete our simple registration process here for eligible resellers.