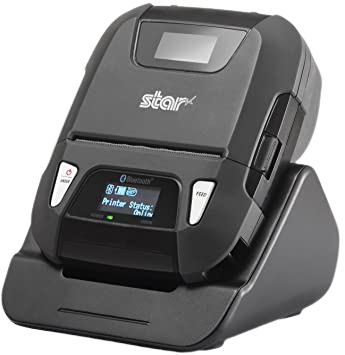 Star SM-L300 Mobile Bluetooth Printer
Star SM-L300 Compact 80mm Mobile Bluetooth Receipt and Label Printer
SM-L300 Overview
The Star Micronics SM-L300 is a compact and reliable mobile receipt and label printer for POS and logistics applications.
The easy-to-use SM-L300 with OLED display features Bluetooth 4.0 (BLE) connectivity as well as Classic Bluetooth allowing it to connect with multiple Apple iOS devices.
This 80mm / 3 inch printer is useful for printing in-store / in-field receipts and reports on-the-go, as well as printing variable-width traditional & liner free re-stick labels for retail and logistics applications.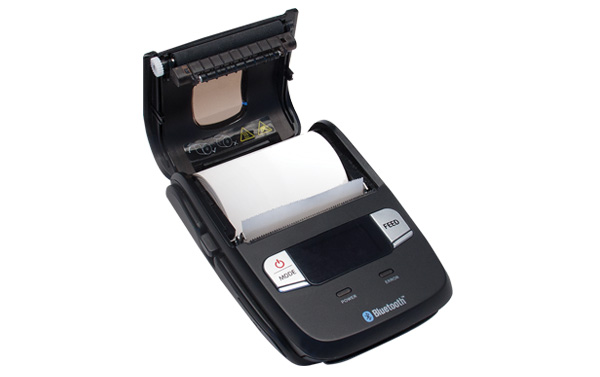 It features reflective (black mark), transmissive and paper end sensors to accommodate fixed length receipts and standard labels as well as MAXStick re-positionable adhesive technology, liner-free labels.
Designed to work just as happily from a person's belt as well as or from the 5V counter top cradle charger or the in-vehicle mount, this versatile printer with an unprecedented 43 hour battery life at 5 minute printing intervals ticks all the mobility boxes and can simply be charged using a micro USB cable.
Star's WebPRNT Browser, simplifying direct printing from the web along with Star's PassPRNT print data relaying application provides software support to match this sophisticated mobile printer for easy integration.
The SM-L300 mobile bluetooth printer is also compatible with Star Cloud Services and the AllReceipts Digital Receipting App.
SM-L300 FEATURES
3″/ 80mm mobile printer
Label support with Black Mark & transmissive sensor
MAXStick™ repositionable adhesive technology, liner-free label support 65 mm/second print speed
Unprecedented 43 hour battery life at 5 minute printing intervals
Classic Bluetooth & Bluetooth 4.0 BLE
Bluetooth 4.0 allows the use of multiple iOS tablets as opposed to the traditional one-to-one
High contrast OLED Display for improved visibility of printer status in store
Unique "flat", decurl receipt feature
Unique micro USB charging
5V desktop cradle charger option
Compatible with Star Cloud Services and AllReceipts Digital Receipting App
Max. Print Speed
65mm/sec. (70mm paper feed speed)
Resolution
203 dpi
No. of Columns
42 col
Autocutter
Tear Bar
Paper Width
80mm thermal paper roll
Paper Thickness
Thermal: 0.053 – 0.12mm
Restick: Max. 0.086mm
Label: Max. 0.150mm
Paper Roll Standard Option
80mm wide (receipt or label printing),
57mm max roll diameter
Media Presentation
Horizontal desktop or vertical with belt strap
Print Width
40mm to 80mm
Sensors
Paper Out, Cover Open
Connectivity
Bluetooth 3.0, 4.0 Bluetooth Low Energy
Drop Test
1.2m
Battery
DC7.4V Lithium-Ion Battery 2000mAh, USB charging
Battery Life
43 hours with 5 minute print intervals
Reliability
50km (37 million lines MCBF)
Dimensions (W x D x H) mm Weight
119.1 (W) x 150.8 (L) x 69.0 (H) mm
Weight 540g with battery
Included at purchase

Battery Pack
Sample Paper Roll
Belt Clip
USB Cable

Options
Become a Star Micronics Reseller
Star Micronics has been supporting resellers in Australia for more than 30 years.
Complete our simple registration process here for eligible resellers.