New generation Star SM-L200 Bluetooth 3.0 / 4.0  58mm mobile receipt and label printer for fast, low cost, effortless connection to Apple iOS, Android, Linux & Windows mobile devices
The SM-L200 Bluetooth mobile receipt and label printer is designed specifically for the growing mobile POS (mPOS) market.
This super-compact mobile solution provides fast, simple connection to Apple iOS, Android, Linux and Windows Mobile device, is simple to operate and can connect using Bluetooth 4.0  to multiple devices without the need for traditional pairing.
It is therefore perfect for environments where mobile printers are shared. The easy-to-use "Drop-In & Print" paper loading, whether on the counter or on your belt, along with the long lasting battery life of 13 hours all leads to effective mobile POS transactions.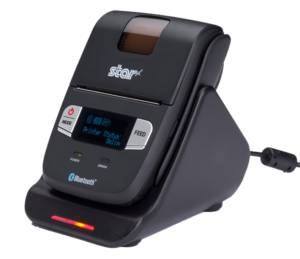 Compact and lightweight, the SM-L200 is designed to print high quality receipts and labels on-the-go.  With a 13 hour battery life, the SM-L200 features simple micro USB charging as well as an optional desktop charging cradle and vehicle mount.
The SM-L200 features reflective (black mark) and paper end sensors to accommodate fixed length receipts and standard labels as well as MAXStick repositionable adhesive technology, liner-free labels.
Star's WebPRNT Browser, simplifying direct printing from the web along with Star's PassPRNT print data relaying application provides software support to match this sophisticated mobile printer for easy integration.  The SM-L200 mobile bluetooth printer is also compatible with Star Cloud Services and the AllReceipts Digital Receipting App.
Star SM-L200 bluetooth mobile printer is the TfL approved receipt printer for card payment solutions available for London's licensed taxi drivers.
For more information, help and advice about cab payment printing solutions please contact us.