TSP655II Thermal Receipt Printer
The TSP654II series for Retail and Hospitality is both rugged and versatile.
Blistering print speed of 300mm/sec and print quality 203dpi will ensure fast and clear receipts.
The versatility of the TSP654II series connectivity gives you traditional interface options along with low cost Ethernet and USB.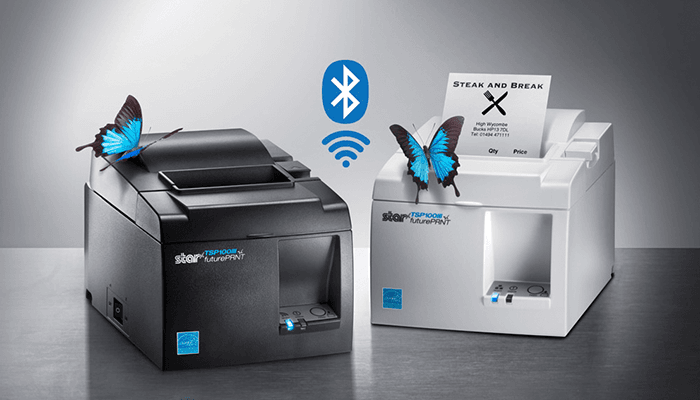 Alongside this the TSP654IIBI (Bluetooth) is the first desktop Bluetooth printer for Apple iOS and Android with cash drawer support and is compatible with major operating systems including Mac OSX, Android, Windows and Linux.
The Star range of Bluetooth printers are all Apple Certified MFi (Made for iPad, iPhone and iPod)
A fast 300mm/second entry-level thermal POS receipt printer, the TSP654II offers versatility at all levels with a range of connection options for EPOS and mPOS including Ethernet, low cost WiFi and Star WebPRNT interface.
The TSP654IIBI model offers a dedicated Bluetooth receipt printer with MFi approved bluetooth interface. It combines high print quality, Star's renowned reliability, simple set-up features and Star Autologo™ marketing software – all at great value.
Intuitive Software Developer Kits for iOS, Android, Windows and Linux are available to download to enable the simple set-up of Star receipt printers with Apple iOS, Android and Windows tablets for mobile pos printing in retail and hospitality environments, mobile ticketing and logistics control.
Managing a large estate of multiple tablets and paired Bluetooth devices means that it can be operationally difficult to maintain the right connection between the right peripherals and devices. The Star TSP143IIIU POS printer changes all this.
As well as working with a traditional POS terminal, this printer can also connect directly to an iPad or iPhone using the Apple supplied lightning cable for reliable USB communication.
As a result, the usual Bluetooth or WiFi / wired LAN set-up issues around pairing, network infrastructure, connectivity etc. are eliminated.
No other stand-alone POS printer can achieve this today!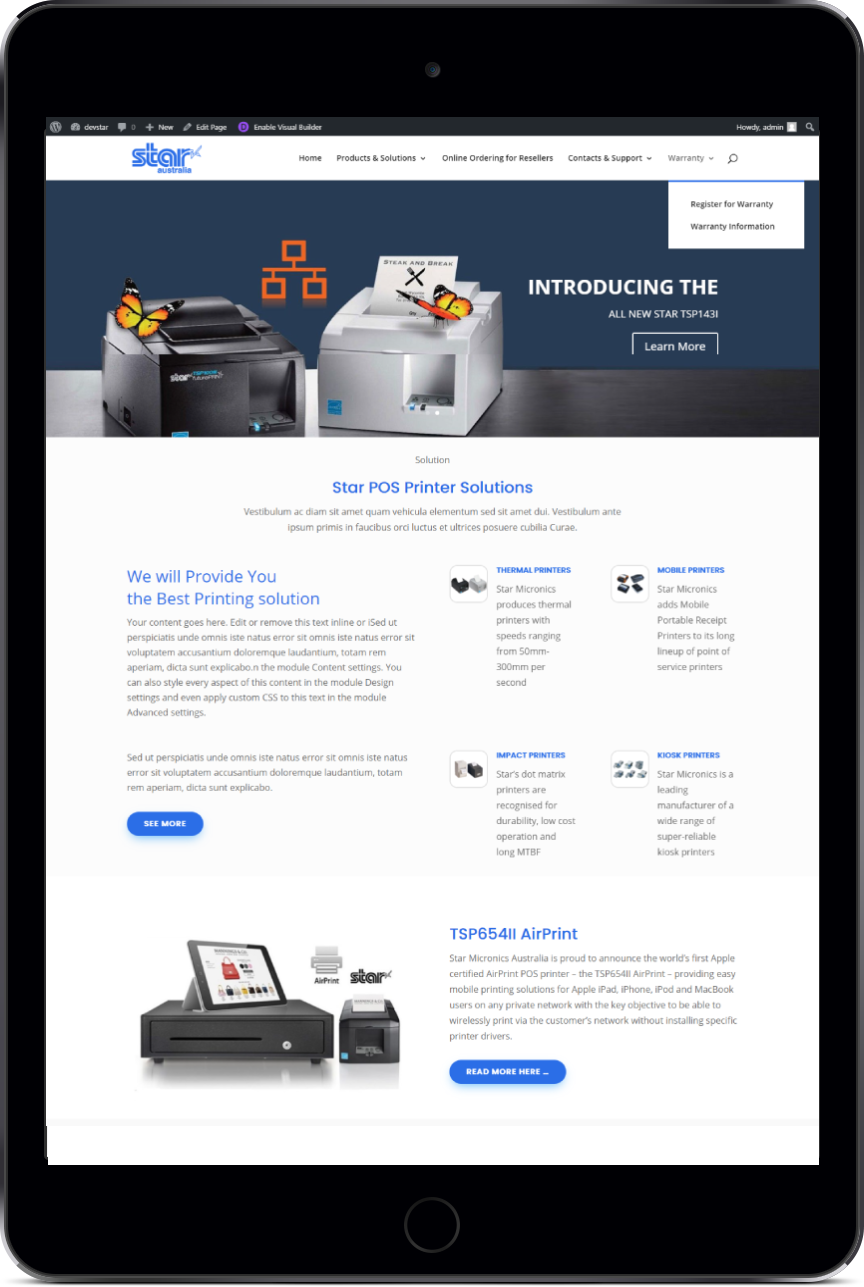 The new TSP654II Feature
High performance printing at 300mm per second
"Drop-In & Print" Easy Load
High quality 203 dpi print quality with barcode capability including 2D for receipts, coupons and ticketing
Compact horizontal or vertical footprint and choice of two paper widths 58mm or 80mm
60,000,000 lines CRT reliability and compatible with most operating platforms
Autocutter as standard
TSP655II THERMAL RECEIPT PRINTER Specifications
Max. Print Speed
300mm/sec.
Resolution
203 dpi
No. of Columns
48 / 64 col. Depending on Paper Width
Autocutter
Partial Cut (Guillotine)
Paper Width
80mm (58mm Using Paper Guide)
Paper Thickness
0.053 – 0.085mm
Paper Roll Standard Option
83mm
Media Presentation
User Selectable Paper Delivery Options with Mounting Bracket included
Print Width
50.8mm (58mm Paper) 72mm (80mm Paper)
Sensors
Paper End, Cover Open, Near End Sensor Horizontal & Vertical
Interface
TSP654II Serial, Parallel, USB, Ethernet and Non Interface versions. Plug-In Options for non-interface version: Serial (IFBD-HD03), 9-pin Serial (HN03), Parallel (HC03), Ethernet (HE07), WebPRNT (HE07X). WiFi version available with TSP654II Ethernet plus Star WiFi Power Pack. Bluetooth version – TSP654IIBI.
Unique Ethernet Print on Disconnection Feature
Standard with IFBD-HE07 Option
Power Supply
External Power Supply PS60A required. External PS60A is available with all versions of this printer series at no extra charge when purchased using the "kit" part number. Please contact your Star Reseller for more information.
Power Consumption
1.9 Amps Printing 0.15 Amps Standby
Energy Star
External, Energy Star Qualified PS60 (Optional)
Reliability
60 Million Lines 2 Million Cuts
Dimensions (W x D x H) mm Weight
142 x 203.5 x 132 1.60kg
Options

T100/650 Splash Proof Cover
VS-T650/100 Display Stand for Vertical Use
Plug-in Interfaces (see above)
"Plug-In" WebPRNT interface solution for simple Web printing
Star WebPRNT Browser Download option for TSP654IIBTi from the App Store & Google Play
Become a Star Micronics Reseller
Star Micronics has been supporting resellers in Australia for more than 30 years.
Complete our simple registration process here for eligible resellers.