Introducing the MCP30 Square POS Printer
Combining sophistication with high functionality, Star Micronics MCP30 receipt printer integrates seamlessly with Square POS systems.
Additional Compatible POS Systems
While the MCP30 Square POS Printer combines flawlessly with Square POS systems it can also be seamlessly incorporated into many other POS systems for the perfectly automated retail point-of-sales system.
The MCP30 printer is also compatible with: Vend, Hike, Loyverse, Dear & WineDirect
Features & Benefits Overview
| | |
| --- | --- |
| | BUILT IN DUAL INTERFACES. The MCP30 comes standard with dual interfaces USB and ETHERNET so suits the single user or fits straight into your network |
| | AUTO SENSING OF INTERFACES. No tedious switching simply plug in and the connected interface senses incoming data it's so easy. |
| | SUPERFAST PRINT SPEED. Boasting a blistering 250 mm per second thru-put this printer can get your print jobs done fast |
| | WATER RESISTANT. With an IPX2 splash resistance this unit is ideal for hard working kitchens or hospitality. |
| | FRONT PAPER FEED. With a human convenient front feed the MCP30 is a delight to use and dockets are easily presented |
| | RUN FLAT PRINTS. Star Micronics exclusive De-curl technology actually irons your prints before presentation nice flat receipts or order dockets. |
| | PAPER SAVINGS. Equipped with a 2mm top margin high paper savings are a natural with this feature. |
| | FRONT PAPER LOADING. Super easy super quick paper roll loading for user convenience and time saving it's a snack. |
| | SMALL FOOTPRINT. Saves on counter space real estate the MCP30 invites a card reader or the like to be placed on top of your printer. |
| | STYLISH DESIGN. The MCP30 is probably the most stylish design Star Micronics have ever introduced with sexy styling that will fit or disappear into your premises. |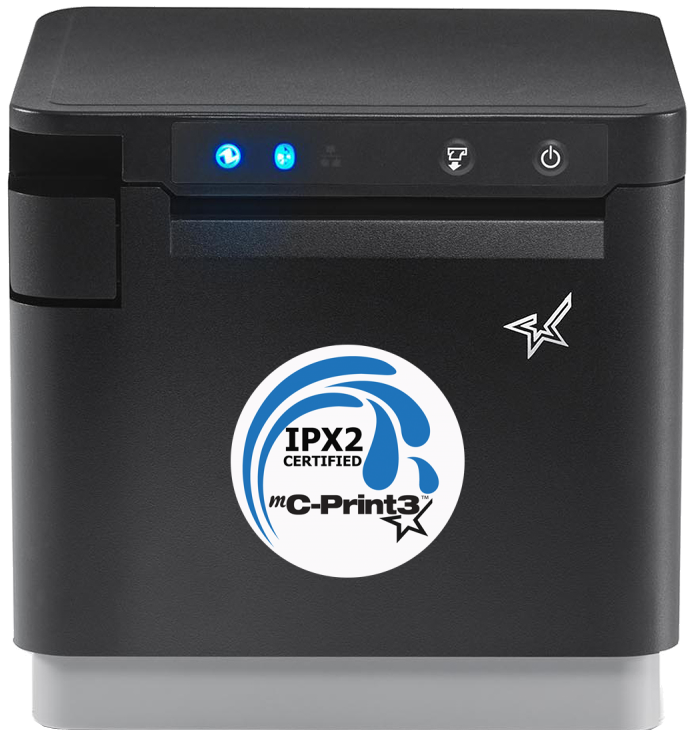 Available at selected Officeworks across Australia
Become a Star Micronics Reseller
Star Micronics has been supporting resellers in Australia for more than 30 years.
Complete our simple registration process here for eligible resellers.