Hospitality Printing Solutions
Star Micronics manufactures a wide range of printers for Point-of-Sale as
well as industry specific solutions
Hospitality Printers
Keeping in line with the fast growing hospitality industry, Star is constantly expanding its range of printers with features specifically designed for hospitality use, whether for counter or for kitchen environments.
Star has developed the first "Splash Proof" protective cover for the TSP700 with cable guards; ideal for restaurant and bar environments. Star has also developed power switch covers available on the TSP600, TSP700 & TSP800 thermal printers to prevent the printer being accidentally switched off as well as features such as 2 colour printing, wall mount brackets for kitchen printers and easy paper loading.;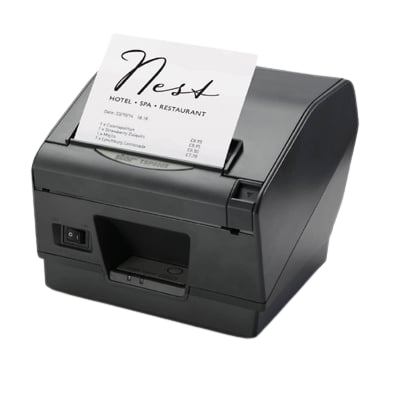 Thermal Printers: 
High quality, low cost receipt printer with easy-load, 80mm (standard) or 58mm paper widths 100mm / s print speed, two colour output and high speed processor for fast throughput. Available with wall mount bracket and vertical desk boot options.
High performance , easy-load, super-fast receipt printer (180mm / s) with high speed processor, two colour output, autocutter as standard and choice of paper widths (80mm standard, 82.5 or 58mm options). Also capable of printing barcodes / labels and tickets at 180mm per second. Unique splash proof cover, wall mount bracket & vertical desk boot available.
Versatile wide-format (112mm) printer capable of printing high quality receipts with a print speed of 150mm per second. Also includes high speed processor, two colour output, autocutter as standard and choice of paper widths (112mm, 82.5mm or 80mm). Also a barcode / label and ticket printer and capable of scaling A4 pages on to 112mm paper. Wall mount bracket & vertical desk boot options available.
Matrix Printers:
The SP700 is a compact, superfast, Clamshell™ matrix receipt printer with red / black output, user friendly features, advanced software features and high reliability. (4.7 – 8.9 LPs)
Fast, reliable, cost effective slip printers ideal for printing "company branded" pre-printed multi-part slips / forms. Additional items (drinks, desserts etc.) can be printed as ordered, due to the auto alignment and positioning feature.
Become a Star Micronics Reseller
Star Micronics has been supporting resellers in Australia for more than 30 years.
Complete our simple registration process here for eligible resellers.