How to Reset the Auto Cutter for TSP Printers
This guide will show you how to reset the Auto Cutter of the TSP printer and return it to its original position. If the printer experiences sudden power loss or paper jams, the cutter may not retract properly, preventing the printer's upper cover from opening or closing correctly.
To reset a typical locked cutter, simply turn the printer off and back on by using the power switch. If this doesn't work, follow the steps below:
Supported Printers: TSP654II, TSP700II and TSP800 Series printers.
Supported Interfaces: Any
Supported Environments: Any
Resetting the Cutter Guillotine
Note A: Make sure to turn off the printer before performing maintenance on the cutter.
B: Be careful not to damage the printer when removing jammed paper. Avoid touching the thermal head, as it is easily damaged.
Here are the steps to reset the cutter:
Unplug the power cable from the outlet.
Remove the front cover.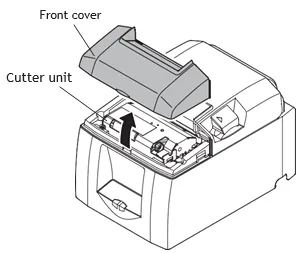 Remove any visible jammed paper.
Turn the knob in front of the cutter until the guillotine blade reaches the home position, all the way towards the printer's front.
Open the rear cover, remove any visible jammed paper, and then close it.
Reattach the front cover and turn the power switch on.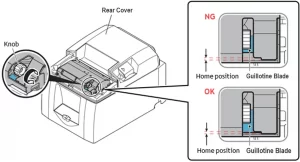 Congratulations, you have successfully reset the TSP printer auto-cutter.