How to Disable the TSP654IISK Taken Sensor
Introduction:
The TSP654IISK linerless label printer has a feature that allows it to queue new orders until the previous one is taken from the printer. This is helpful to ensure all orders are acknowledged by kitchen staff. This guide explains how to manually disable the "HoldPrint" sensor (also known as the Taken Sensor) when this function is not necessary or preferred.
The same steps can be followed to re-enable it.
Supported Printers: TSP654IISK
Supported Interfaces: Not applicable
Supported Environments: Not applicable
How to Disable or Enable the Ticket Hold Setting:
Turn on the printer and open the paper cover.
Press and hold the [FEED] button for 5 seconds or until the (red) ERROR light flashes rapidly (0.5 sec intervals).
To disable or enable the ticket Hold setting, press the [FEED] button until the desired setting is displayed: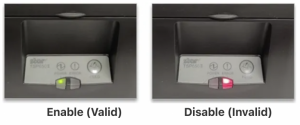 RED = disabled and GREEN = enabled, and then close the paper cover.
The printer will automatically print a self-test indicating the new status.
Turn off and then on the printer to save the settings.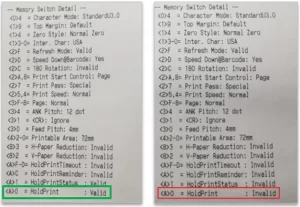 Congratulations! You have successfully changed the ticket print hold settings.