Barcode, Label, & Ticket Printing Solutions
Star Micronics manufactures a wide range of printers for Point-of-Sale as
well as industry specific solutions
Barcode, Label, & Ticket Printing
Star specialises in reliable 40 column matrix and thermal label printers and has developed a number of printers for various applications including product, stock and shelf labelling for large retail outlets as well as promotional product discount coupons ideal for smaller retailers.
Star is able to offer the following high quality printer solutions: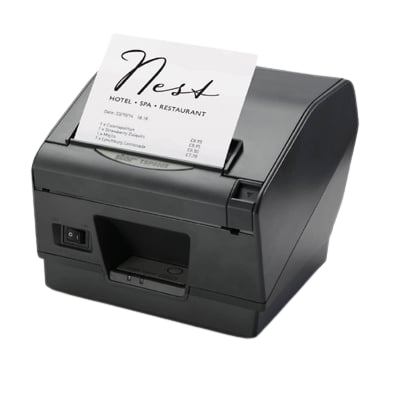 Thermal Solutions
TSP800 and TSP700 high quality thermal receipt, barcode / label and ticket printers are able to print barcodes and high quality graphics at speeds of up to 180 mm per second (TSP700) with the advantage of Easy-Load, "Drop-In & Print" paper loading.
The SCP700 high performance two-station hybrid printer combining thermal receipt and impact slip technologies, can now produce thermal labels on demand with a unique validation feature. These new developments make it the ideal solution for bottle labelling and prescription verification in pharmacies or indeed warranty product identification / tracking in technical departments with or without barcode requirements.
Matrix Solutions
Star also manufactures low cost Matrix Solutions for small batch runs with the choice of mono, purple or red / black output.
DP8340S Series (discontinue)
Very Reliable, wide format (115mm / 4.5″) sprocket label printer.
Ticket Printing
The TSP400Z Series and TUP400Z Series (Kiosk) are ideal ticket printers for cinemas, theatres & museums and are capable of printing at a fast 80 mm per second on pre-printed stationery up to 0.15 mm thick.
TSP700 and TSP800 thermal printers are capable of printing high quality graphics and logos on to ticket stock of up to 150 gsm at speeds of up to 180 mm per second (TSP700). Raster Drivers are available for both printers which speed up the printing of processor intensive images.
Become a Star Micronics Reseller
Star Micronics has been supporting resellers in Australia for more than 30 years.
Complete our simple registration process here for eligible resellers.