AsuraCPRNT Launch
The Future of POS is Here
The Future of POS is Here
At the forefront of the next generation in POS technology Star HQ is very pleased to announce the launch of the AsuraCPRNT™. The AsuraCPRNT's flexible, stylish and compact design is the result of Star's experience in developing a high quality and reliable hardware solution combined with multi-platform integration. The innovative solution offers a unique way to engage customers, simplify and personalise the purchase experience and ultimately maximise sales.
Features include:
Compact design – 180mm(w) x 162mm(d) x 380mm(h)
Swivel and Tilt 7" LCD Touch Screen, Fast ARM based CPU
High Quality and Fast Print Speed
Internal "External" Power Supply
Internal Speaker / Microphone
Optional VESA back Mount Supported
32 Level Greyscale Printing
Electronic Lock Function
Black Mark Support
3 Basic Colour LED Lighting for Multi-Colour Programmable Visual Feedback
Compact Footprint for User Counter/Shelf/Kiosk Integration
Compatible with Linux Angstrom Kernal 2.6x, Android with Windows CE Coming Soon
Optional Combined Encrypted Magnetic Stripe Reader and 2D/QR/Barcode Imager with NFC Option Coming Soon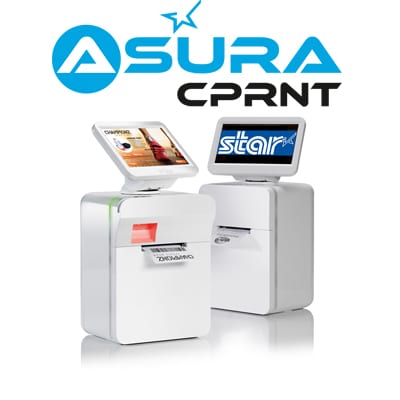 Become a Star Micronics Reseller
Star Micronics has been supporting resellers in Australia for more than 30 years.
Complete our simple registration process here for eligible resellers.