For peace of mind, look for the RCM tick of approval!
This little symbol on Star Printers assures you of the highest standards of safety and quality as well as ongoing servicing support.
What does RCM stand for?
Regulatory Compliance Mark. When you see this RCM tick of approval, you can be confident that the printer you are buying has undergone and passed rigorous testing in order to satisfy the regulatory safety standards in Australia and New Zealand.
Can I expect ongoing support too?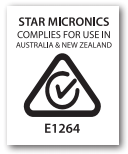 Yes!
Our company has been the Manufacturer's exclusive authorised distributor of Star printers in Australasia for more than 30 years! We know the many years of reliable usage that a quality product provides.
If your product carries the RCM tick with our number (E1264), you can be assured of the following:
Only suppliers who are registered as Responsible Suppliers under the EESS are permitted to attach the RCM tick to their electrical products. It means we are registered on the EESS National Database (Responsible supplier number: E1264) and have satisfied all safety tests. EESS can also audit us at any time.
We can honour this warranty without delay. We are the only distributor of Star printers with exclusive Australasian distribution rights from the Japanese manufacturer. This gives us direct access to printer parts in Australasia and no delays in ordering and getting spare parts.
Similarly, you can rely on ongoing software support delivered directly by us, as we have access to software as it is updated by the manufacturer.
Purchase with confidence!
Look for the RCM tick on the product label and be assured of its safe performance and ongoing technical support from us – an authorised, credible supplier.
For more information call us on +61 2 8788 1500
Need a Star Micronics compliance PDF for your sales presentations?