STAR's HOTTEST Printer Ever
the all new TSP654SKII Sticky Label Printer
WHAT MAKES THE STAR TSP654SKII SO HOT?
The TSP654SKII is the fastest liner-less printer in its class at 180mm/sec  – nothing else gets near it!
What's Included with the TSP654SKII :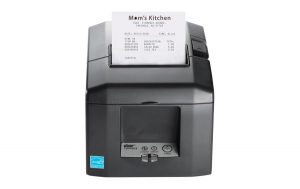 TAKEN SENSOR – this enables the printer to hold the order or label until it is taken, so the user can start a virtual assembly line labelling cups, boxes and containers.
INCLUSIVE WARRANTY BONUS – We provide a "no questions asked" warranty on all components, except breakage of plastic parts – with the proviso that ONLY approved & prescribed labels are used with your printer . Compare this to competitors who regard the cutter as a consumable item or delimit the warranty to 12 months on the power supply or interface.
Our competitors, simply sell you a printer and tell you to find your own media or consumables – we deliver to you and support  a FULL solution including the means to buy consumables at around 50% less than our competitors; PLUS we hold your hand throughout the entire process!
Supported Software
The Star TSP654 can run with virtually any software packages sold in Australia
and the most widely used delivery software ALL operate flawlessly with the TSP654.
Works With
Since they do not use silicone liners, liner-free labels eliminate negative environmental impact and help cut back on in-house waste.
This continues the Star Micronics Global Green Initiative which encompasses manufacturing products that provide minimal impact on our environment.
Liner-free labels are a welcomed addition for quick service restaurants (QSR) applications, from drive-through service to self-service deli applications.
The liner-free labels can be used for an exception sandwich only or the entire order by attaching it to the bag. The labels can stay with and track an order through the entire preparation process, improving both drive-through, and takeout order accuracy, and creating a better bottom line.
The labels also maintain image integrity because they are engineered to preserve thermal images in applications where heat lamps or exposure to direct heat is used.
Includes, Accessories & Labels
Label Table for Wet Areas
Wet Area Label & Printer Protection
The Star Label Table together with TSP654SKII printer is
designed to operate flawlessly in wet areas like coffee or drink prep locations.
The design protects printer and labels against capillary liquid intrusion or spills.
Wall Mounting Bracket
Comes included in the Box
Included In The Box
The Star TSP654SKII Wall mountable bracket comes included with the printer. No need for add-on purchase
MAXStick Linerless Labels
by MAXStick
Relocatable, No-Residue Premium labelling for Premium Businesses
MAXStick labels are the exclusive prescribed Linerless labels for the Star TSP654SKII printer. After undergoing extensive testing by our engineers, we partnered with them to deliver the perfect linerless labelling solution for your business.
TSP654SKII Specifications
| | |
| --- | --- |
| MAXStick Linerless Label Support | Improves order accuracy up to 99% |
| High Reliability | MCBF: 60 Million Lines;  Guillotine Auto Cutter: 1 Million Cuts |
| Small Foot Print | Save precious counter space |
| "Drop In & Print" Paper Loading | Clamshell design allows for very fast and easy paper loading |
| Swappable Interface Connections | Future interface upgrades are fast and simple to do. With swappable interfaces, there's no need to purchase a new printer just to upgrade the connection |
| Recessed Cable Connections | Helps protect cables from being damaged on the counter top |
| Horizontal or Vertical Orientation | Use the printer in the orientation that suits you best. An optional eye-pleasing vertical stand (VS-T650) is available for vertical operation. |
| Wall Mountable | Need more counter space? Create more room by mounting the printer to the wall |
| Wall Mounting Bracket | Included in box |
| MAXStick Labels | Includes Single Roll MAXStick Linerless Label |
|   |   |
| Logo Utility | Store logos and other graphics for professional receipt branding |
| Memory Switch Utility | Fine-tune your print outs or print in different languages by enabling, changing, or disabling certain settings |
| Ethernet Interface Set Up Utility | Setting up and configuring an ethernet printer has never been more quick and easy! |
| ECO Features | Recommended MAXStick Labels 100% BP-Free, No Residue, Recyclable |
| Drivers | Windows 7,8,10; OPOS; JavaPOS SDK Support for iOS, Android, & Windows; Star IO SDK for iOS & Android; CUPS Driver (Linux, MAC OS)  —[Check this] |
| What's included in the Box | Star Loyalty Rebate on future MAxStick Labels rolls;  1 Roll Maxstick Labels; Wall Mounting Bracket |
| Options | Splash Proof cover |
| Warranty | 12 months – users register free for 3 years  [check this] |
| Part Numbers | TBC |
| For further information | Sales Call +612 8788 1500 or Contact Us |
Register Now
Become a Star Micronics Reseller
Star Micronics has been supporting resellers in Australia for more than 30 years.
Complete our simple registration process here for eligible resellers.
Register Now