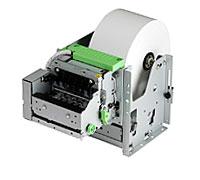 Kiosk technology has become a popular tool for retailers, telecommunications providers, and many other organizations that hope to make their customers' experience easy, fast, informative and convenient. Star Micronics manufactures a wide range of kiosk printers with a variety of features and accessories to fit the requirements of nearly any kiosk application.
Star Micronics has invested substantially developing a versatile choice of thermal and matrix packaged printers, open frame printers and mechanisms with presenter and / or autocutter options, thereby allowing total flexibility for your printing requirements.
The kiosk printers and mechanism on offer both here and in our brochure are highly adaptable and versatile. If they are not exactly what you are looking for, please contact our Star sales team, sales@starmicronics.com.au as most of the Kiosk Printer mechanisms can be tailored to suit your needs. We have successfully integrated most of our packaged printers into kiosk environments.
Complete Range of Thermal Kiosk Printers to Choose from
Register Now
Become a Star Micronics Reseller
Star Micronics has been supporting resellers in Australia for more than 30 years.
Complete our simple registration process here for eligible resellers.
Register Now